EVERY YEAR IS THE YEAR OF THE DRAGON!
January 02 2018 – Matt Beeson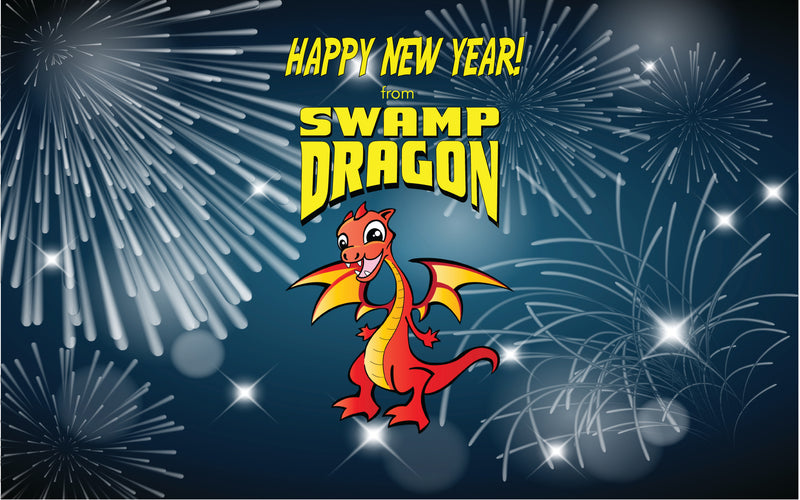 The idea was simple enough, I thought. Vinegar tastes like gack. But vodka is unflavored and would allow the purest pepper flavors to come through without the gack. There would be no need to add molasses, sugar, lime, genetically modified corn syrup, synthetic Kowakian monkey-lizard glandular extract, or whatever else might possibly mask the pungency of vinegar. But if vodka let the peppers shine through, what about bourbon or tequila or rum?

    It worked fantastically. The method of using spirits as a preservative instead of a foul-tasting acid is not only delicious, but is functionally superior. In an age accelerated shelf life study, Swamp Dragon's test samples were flawless at the three year mark. No discoloration, no separation; taste and aroma perfectly intact. Swamp Dragon is about the same acid level as fresh tomato to boot. We succeeded in creating a hot sauce with three simple natural ingredients: peppers, spirits, and ~0.01% xanthin gum. Its food science and safety credentials are perfect, and the flavor, color, aroma, concept, and versatility are singular and unmatched.

    And so began the year in which I worked harder than I have ever worked in my life, and I loved every single second of it. That was 2017, and it ended a couple of days ago. Let's review!
    After a couple of years of passive aggressive research, study, and terrible fermenting experiments in my home kitchen, 2017 finally found me under the watchful and knowledgeable eye of Dr. Marvin Moncada, Certified Food Scientist at the Food Incubator in Louisiana State University's Ag Center. We worked for a couple of months on the formula for Swamp Dragon in a lab environment, and I learned. A lot. Among other things, Dr. Moncada instructed me that alcohol would consume volatiles in peppers. He was right. Side note: Overheated on peppers? Leave the milk aside and swish with some vodka. You're welcome.
    Armed with the knowledge that the product concept was sound, I committed to Swamp Dragon as a full-time pursuit. I conceived and hand-drew Marvin, the Hot Sauce Loving Baby Dragon. I put him in Illustrator, built our website, started accounting, and began the exhaustive process of researching bottles, vendors, labeling, UPC codes, food regulations, cost analysis… All this is ongoing, and I'm sure will be well past my dying day.
    After about two months of lab work on the sauce formula I abandoned the lab on a Saturday afternoon, and worked at home with my spice-averse wife. We threw the "rulebook" out the window, and started, tabula rasa. I mixed one kind of pepper with some tequila and tasted. "Bland, boozy, but not altogether bad." I was losing objectivity, so I thought, and had my wife try. "It's not hot enough" she replied without hesitation. If she says it's not hot enough, it's not hot enough. So I got creative mixing peppers to get the right heat profile, which I did, but it took several tries. But I also achieved a somewhat unintended and altogether magical flavor profile that is quite distinctive and mouthwatering as a result of the particular blend of peppers I finally landed on. (And I'll never tell, so don't ask.)

    The following Monday, back at the lab, I told Dr. Moncada, "Before we do a thing, you have to try this." He smelled, tasted, and his eyes lit up. "Ooooo, that's good. It's hot. But it's good." Yep! The formula was complete. And so began the next phase: product documentation, testing, trials, process optimization, and compliance. We did the shelf life study and yield tests, and had countless people try the sauce (without telling them it had alcohol in it - that had to remain secret until an official product release.) I tried it in and on everything just to see what would happen.
    We submitted detailed formulae and physical samples to the T.T.B. Non-beverage Laboratory (the federal regulatory agency that deals with all things alcohol), in a lengthy process of submittal, rejection, adjustment, re-submittal, rejection, corrections, re-submittal, and finally, approvals. The T.T.B. agreed that Swamp Dragon hot sauce is unsuitable for beverage purposes, which means that it's O.K. for youth and we can import/export across state lines without the restrictions placed on alcoholic beverage products.

    The Texas A.B.C. (the Texas state agency that deals with all things alcohol) agreed with the T.T.B. determination. The Louisiana A.T.C. (the Louisiana state agency that deals with all things alcohol) likewise did the same, but in a process far slower than Texas. Go figure. Marvin the Hot Sauce Loving Baby Dragon would have to wait longer than I had hoped to spread his wings.
    But once I got word that men with guns wearing dark glasses and black suits with flack jackets would not come in the night to take me to prison if I sold some hot sauce, I was off to the races.

    I compiled years of research and drafted a formal detailed business plan, and began officially seeking investors.

    It was late August, after about 2 years of independent research and miserable failures in my personal kitchen, and nearly another year of work at the LSU Ag Center Food Incubator, but testing and compliance were complete, and I had tried Swamp Dragon hot sauce in every way imaginable. I purposely put too much hot sauce on foods to see what would happen. Too much is too much. No question. But… very important… without vinegar, even foods that had been made entirely too spicy could be clearly tasted. I consider this a badge of pride. I created a hot sauce that gave a clean heat and a certain flavor profile that absolutely enhanced, rather than masked the flavor of the host foods.
    We ate it on gumbo, burgers, fries, pizza, tacos, tostadas, fried chicken, grilled chicken, chicken wings, po-boys, fried seafood, eggs, omelettes… but that's all the easy stuff, obvious.

    Without the vinegar gack, it didn't take long to realize the culinary possibilities were far wider than ever before. I put Swamp Dragon on chocolate cake, and it was delicious! Go #TeamRumDragon! We put it in several flavors of the freshest-made gelato (lemon sorbet, wedding cake, cookies and cream, and chocolate - all amazing - but our favorite, mascarpone cheese gelato!) We made spicy hot chocolate. We spiced up margaritas, rum punch, beer, sangria, fresh mango, orange slices… you name it. It worked on everything. We were delighting in flavor combinations previously unknown to humanity!

    During that time, we introduced the product to countless people, never telling them that the sauce contained alcohol. Everyone loved the stuff; no one guessed the "secret," and everyone wanted to know what we were doing to make shelf-stable hot sauce without acids. We took on our first major investor as well. We prepared for an official launch party, and Marvin the Baby Dragon began to anticipate his freedom.
    We officially launched Swamp Dragon products at L'Auberge Casino at a Release/Reveal Event, a four-course meal, each course paired with a drink, all expertly crafted by professional chefs and bartenders, and each drink and food course featured Swamp Dragon hot sauce. It was September 28, 2017, and we revealed the "secret in the sauce," that we made Swamp Dragon hot sauces with either rum, bourbon, vodka, or tequila, to an audience of nearly 100 paid customers. The desert was a chocolate mousse with caramelized mango and Rum Dragon! Things accelerated very quickly for me, and the last quarter of 2017 was a work-filled, action packed joy!
    Announced early October, Swamp Dragon won 8 Scovie Awards for 2018, including Grand Prize for Marketing, and 1st Prize for Unique Hot Sauce. As a Grand Prize winner, I got a custom made DiscIt! So friggin cool!
Here's one: http://www.scovieawards.com/product/the-rum-dragon-2018-1-place

Here's another. They love Marvin the Hot Sauce Loving Baby Dragon! http://www.scovieawards.com/product/swamp-dragon-2018-1-place
    We placed Swamp Dragon at Calvin's at Bocage, Hi Nabor at Jones Creek, both locations of Oak Point Fresh Market, and Don's Specialty Meats in Scott, LA. We started negotiations with countless other outlets, and will expand aggressively in 2018.

    We did countless store demos, and Red Stick Farmer's Market, and also the Broadmoor High School Arts & Crafts Festival where we sold what I could only characterize as a shocking amount of hot sauce. At a high school arts and crafts festival… hot sauce… at a high school arts and crafts festival…
    The starting pitcher for the Philadelphia Phillies, Aaron Nola, fell in love with Swamp Dragon hot sauces. (I have yet to meet him!)

    I filed a patent on hot sauces preserved with alcohol.

    I ordered thousands of 5 ounce glass bottles, thousands of 2 ounce plastics, and hundreds more seasoning shakers to begin expanding our product lines and building inventory for a packed schedule in early 2018.

We signed a contract with Lamar Dixon Expo Center to be a facility vendor.
Baton Rouge Business Report published a one-page feature on Swamp Dragon's startup process.


    We held a bartender competition in which some of Baton Rouge's finest bartenders were tasked with making drinks featuring Swamp Dragon. (Stay tuned for recipes! They were great!)
We had our Innaugural "office" Christmas Party.
It snowed in Baton Rouge.


And on Christmas Eve we received notice of 6 World Hot Sauce Awards!

    September 28, 2018 will mark our official One Year Anniversary. 2017 was a fantastic and exciting time for me, a time for creation, energy, building, and laying a foundation for everything to come. It was a total success, but we have a long way to go. Stay in touch. Spread the word; spread the love; share your ideas! Request Swamp Dragon from your favorite grocer. And just know that whatever the Chinese Zodiac has to say on the matter, from here out, every year is the year of the Dragon! 
-Matt Beeson