THE WORLD'S ONLY LIQUOR HOT SAUCE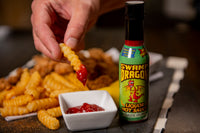 5 Ounce Dark Rum Hot Sauce (The Rum Dragon)
Regular Price

$10.00

Sale Price

$10.00

Regular Price

Unit Price

per
The Rum Dragon is a dark rum hot sauce made with real dark rum and no vinegar! Just a touch of molasses and natural sweetness graces our signature pepper blend in The Rum Dragon. Add some heat with the natural sweetness of rum, and you'll love the possibilities.
Spit roasted meats from pork to chicken to lamb elevate to new levels when spiced with The Rum Dragon. Maybe strip the meat from rotisserie chicken, toss in Rum Dragon, then finish with your favorite ingredients to make a unique chicken salad with more liveliness and flavor than ever before! Mix Rum Dragon into crafted barbecue sauce to enhance the spice level without changing the acidity or making it more sour or bitter.
The Rum Dragon is unbelievable on fried seafood.
Is your rum punch a little too sweet? Add just a touch of Rum Dragon to balance it out. Want to kick it up? Add a little more!
Want to try something completely new? Add Rum Dragon to your favorite desserts. Spice up some hot chocolate on a cold winter evening. The Rum Dragon is full of surprises!
Ingredients: Aged Peppers, Dark Rum, Natural Flavor Extracts, Salt, Xanthan Gum (0.1%)
Contains Alcohol.  Not a Beverage.
Gluten Free
Allergen Free
Vegetarian/Vegan
All Natural
GMO Free (Not certified, but we promise)
#TeamRumDragon #RumDragon #SwampDragonHotSauce