THE WORLD'S ONLY LIQUOR HOT SAUCE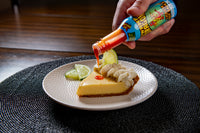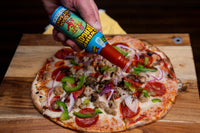 5 Ounce Tequila Hot Sauce (The Tequila Dragon)
Regular Price

$10.00

Sale Price

$10.00

Regular Price

Unit Price

per
This is tequila hot sauce made with real tequila! Tequila may be made in Mexico, but The Tequila Dragon is a citizen of the world! Fried or grilled fish tacos, fajitas, and nachos all soar to new heights with The Tequila Dragon. Try it on tres leches for a truly unique and mind blowing dessert. Add a touch to any kind of margarita, from the standard to mango or orange basil. The Tequila Dragon very easy to work with, because... tequila isn't vinegar.
The Tequila Dragon is a born compliment to Latin cuisine, without doubt.
But get some fresh chicken wings and throw them on a hot grill. About 3/4 til done, toss them in Tequila Dragon, and return to the grill to finish cooking the meat and caramelize the sauce. When thoroughly cooked, toss them again in some fresh Tequila Dragon, and serve piping hot. The aroma of tequila adds depth and complexity to a hot spicy wing that will throw a fiesta in your mouth!
Ingredients: Aged Peppers, Tequila, Natural Flavor Extracts, Salt, Xanthan Gum (0.1%)
Contains Alcohol.  Not a Beverage.
Gluten Free
Allergen Free
Vegetarian/Vegan
All Natural
GMO Free (Not certified, but we promise)
#TeamTequilaDragon #TequilaHotSauce #SwampDragonHotSauce