THE WORLD'S ONLY LIQUOR HOT SAUCE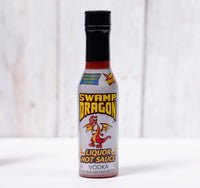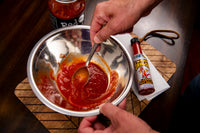 5 Ounce Vodka Hot Sauce (The Vodka Dragon)
Regular Price

$10.00

Sale Price

$10.00

Regular Price

Unit Price

per
A different kind of hot sauce made with real vodka and no vinegar! Vodka was where the concept for Swamp Dragon hot sauce started. Founder and inventor, Matt Beeson, wanted an alternative to vinegar. Beeson guessed that it might be used to preserve a sauce instead of acid, and as an unflavored spirit, vodka would really let the natural pepper flavors shine. It worked, and Swamp Dragon was born.
Fruit forward and savory, The Vodka Dragon goes with everything! Bloody Marys are obvious, because the Vodka Dragon is made with... vodka! But it's even better than you think. Tomatoes are mildly acidic, and lime adds even more. Now there's finally a way to add a clean pepper heat to the mix without making the acidity overbearing. The Vodka Dragon really opens up the flavor!
Put it on your eggs every morning for a real eye-opening breakfast that will prep you for a productive day. Add to pasta sauces to liven up Italian night without making your sauce sour or bitter. Take it with you to a party for a real conversation piece. Try it in chocolate sauce!
Ingredients: Aged Peppers, Vodka, Natural Flavor Extracts, Salt, Xanthan Gum (0.1%)
Contains Alcohol.  Not a Beverage.
Gluten Free
Allergen Free
Vegetarian/Vegan
All Natural
GMO Free (Not certified, but we promise)
#TeamVodkaDragon #VodkaDragon #SwampDragonHotSauce